It's now February!
That means we are one month into the new year, and I am one month into my new year's goals. I'm pretty happy with the progress I'm making so far:
I organized my house,
I read my scriptures more,
I found some exercise videos I like (and have used them),
I worked on my Child Care Provider certification (I'm still on the fence about whether or not I really want to be a Provider, but that's another story for another time),
I have been taking more photos,
I haven't come up with any new sewing projects, but I did finish a couple of existing sewing chores that I've had sitting around.
I have also started taking some skin/hair/nail vitamins in an attempt to do something for my hair. I don't think it will trigger any hair growth, but I know it's a step in the right direction.

With the new month, I've thought about some new challenges that will help me continue in accomplishing my goals. The first one has to do with my "being more girlie" goal. After organizing my bathroom this last month, I have realized how much makeup I have. It's pretty safe to say that I collect it. My goal this month is to use a different color/create a different look each day. I certainly have enough that this may not be a difficult challenge. I'm hoping that by the time March rolls around, I will have found a new love for some of my long-forgotten products and find ways to use them more often.
This isn't even half of my "collection." This is just the stuff I use on a more regular basis.
Also, in an effort to keep up the home organization, I'm participating in
A Bowl Full of Lemons
' Weekly Challenges.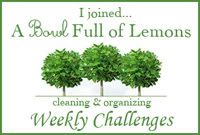 This week's challenge is creating a
Home Management Binder
. I'm looking forward to this one because I have attempted versions of this at other points in time, and I haven't quite found a way to make it work. I'm hoping that this time I can make it stick. Hopefully I will have pictures to post toward the end of the week. Feel free to join me!
How are your goals/resolutions going so far?